Baltic International Bank SE's Rating Affirmed At 'BBB+' With Neutral Outlook
Baltic International Bank SE's rating affirmed at 'BBB+' with neutral outlook for its financial crime compliance.
NEW YORK, October 25, 2021 – Following a recent re-certification review of Baltic International Bank SE's inherent risk environment and control effectiveness around internal compliance, governance and financial crime policies, Sigma has reaffirmed Baltic International Bank SE (BIB) "BBB+'' rating, with the institution performing at a high-level when benchmarked against international best practices. The outlook for BIB is neutral, primarily due to its geographic exposure and increasing geopolitical tensions in the Baltic region. 
The BIB rating reflects our view that, despite increasing geopolitical tensions and challenges of geography, the institution has improved its control framework since its last review in 2019. Specifically, a number of the areas identified by Sigma as part of the initial rating were addressed by BIB's management and compliance team, including further de-risking of its customer base and an increased focus on financial crime compliance from an audit and risk assessment perspective.
Against the backdrop of significant changes in Latvia, including more pronounced regulator action, as well as notable work by the nation to avoid graylisting by the Financial Action Task Force (FATF), BIB continues to navigate a challenging environment. The bank is equipped to pivot to lower risk markets and has in place a robust compliance team that can both maintain current business, as well as onboard new clients in Latvia and the broader EU as its strategy shifts to make it more dependent on client acquisition in lower risk markets as identified by Sigma's proprietary country-risk model..
While BIB's de-risking improves its residual risk score, pressure to onboard and grow the bank's book will add pressure and the potential for new, previously unforeseen compliance gaps may emerge. This would likely be exacerbated if the institution were to move into new, materially different product offerings or other non- EU client opportunities. While we judge the risk of a more European-focus to be low overall, it is not without risk, particularly as these markets are historically less familiar from a growth perspective for the institution.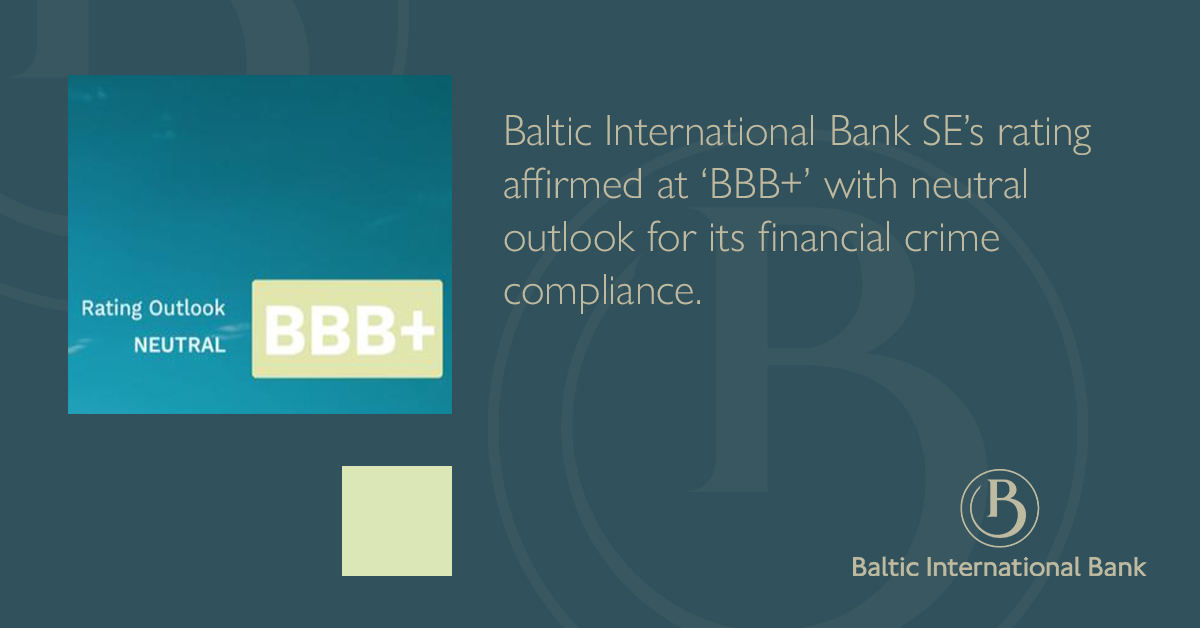 Publication: https://www.sigmaratings.com/knowledge-center/baltic-international-bank-ses-rating-affirmed-at-bbb-with-neutral-outlook?fbclid=IwAR293016DUIqNo4hNDEjXOZJD3UlxDigAIMCHWZgNaHZ1F3AKFAhDV-z3D0